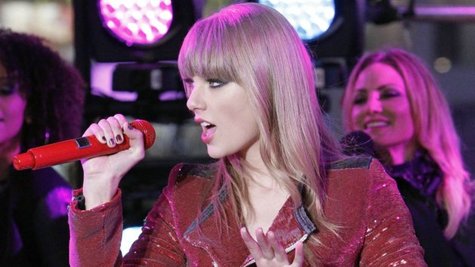 Taylor Swift 's the first to admit that her songs are often critical of her ex-boyfriends, which is why she says her latest hit, "I Knew You Were Trouble" is such a departure for her. While it's about an ex-boyfriend who ended up being a jerk, this time around, Taylor's blaming herself, not the guy.
"I have never written a song like that where it's not 'Shame on you, you broke my heart,'" she explains. "It's 'Shame on me , you broke my heart. I saw the red flags from the first second.' God, you feel so stupid!"
And Taylor says the song's unusual sound, especially the part where she sings "Oh! Trouble, trouble," was an effort to reflect her feelings after a breakup like that, where you realize you really should have known better, but you weren't thinking straight.
"It's got that chaotic sound in it," says Taylor. "It's got that really bold edge to it, where the song sounds like how that feeling felt."
Taylor says that when she came up with "I Knew You Were Trouble," she knew she was on to something special -- and couldn't wait to tell her co-writer, legendary Swedish hitmaker Max Martin , about her concept.
"[It] was an idea that I got six months before I was scheduled to write with Max Martin," she recalls. "And I emailed him and said, 'I just got this idea. I can't wait to bring it to you. I know that we're not writing for a few months, but I need you to know I thought of this thing. I can't wait for you to hear it!'"
Taylor's instincts were right about the song: it's gone triple platinum and climbed as high as #2 on the Billboard Hot 100. And of course, it's also inspired that infamous goat remix .
Copyright 2013 ABC News Radio