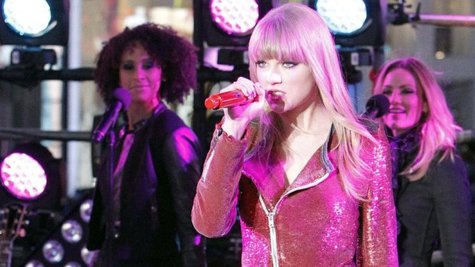 In the new issue of Vanity Fair , Taylor Swift says she wasn't happy about the fact that Tina Fey and Amy Poehler poked fun at her at the Golden Globes earlier this year, and notes that she agrees with a quote she'd heard about there being "a special place in hell for women who don't help other women." Now, Poehler has responded...and she says she agrees she's headed to Hades one day.
Asked for her reaction to Taylor's comments in the Vanity Fair article, the Parks and Recreation star told The Hollywood Reporter , "Aw, I feel bad if she was upset. I am a feminist, and she is a young and talented girl."
Poehler then added, "That being said, I do agree I am going to hell. But for other reasons. Mostly boring tax stuff."
For her part, Fey tells Entertainment Tonight , referring to Taylor's disapproval, "I did not see that one coming. It was a joke, it was a lighthearted joke."
On stage at the Golden Globes, Tina announced, "You know what, Taylor Swift? You stay away from Michael J. Fox 's son." Poehler added, "Or go for it," but then said, "No, she needs some 'me' time to learn about herself."
Copyright 2013 ABC News Radio