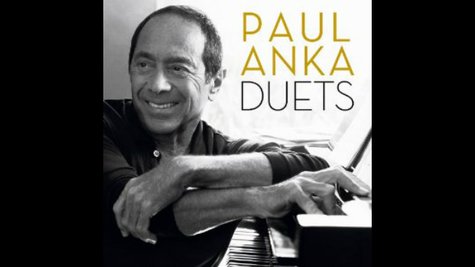 Which singer's so famous that he's sung with Celine Dion , Michael Buble , Gloria Estefan , Michael McDonald , Patti LaBelle , Peter Cetera , Dolly Parton and Frank Sinatra ? Paul Anka , that's who. The entertainment legend has a new album of duets coming out, and all those stars, plus more, are featured on it.
Called simply Duets , the album's due in stores April 9, to coincide with the release of Paul's book My Way: An Autobiography . It features several new recordings, as well as previously-released duets, and recordings that either feature new vocals or new instrumentation. Among the new tracks is a duet with fellow Canadian Michael Buble, who Paul mentored early in his career, on a version of the standard "Pennies from Heaven."
Also included is a new duet version of "This Is It," Michael Jackson's posthumous single, which was co-written by Anka. Other collaborations on the disc feature Leon Russell , George Benson , Gloria Estefan , Tom Jones and Willie Nelson .
In a statement, Paul writes, "Throughout the history of music, there have been all kinds of songs; to me, the classics still reign supreme. This endeavor, these songs, will be easy on your ears; they are the stuff that love and life is all about."
"Walk a Fine Line" with George Benson and Michael McDonald
"Find My Way Back to Your Heart" with Tita Hutchison
"Do I Love You (Yes, in Every Way)" with Dolly Parton
"This Is It" with Michael Jackson
"I Really Miss You" with Leon Russell
"Think I'm in Love Again" with Gloria Estefan
"Pennies from Heaven" with Michael Bublé
"Crazy" with Willie Nelson
"You Are My Destiny" with Patti LaBelle
"Les Filles de Paris" with Chris Botti
"It's Hard to Say Goodbye" with Celine Dion
"She's a Lady" with Tom Jones
"Hold Me 'Til the Morning Comes" with Peter Cetera
"My Way" with Frank Sinatra
Copyright 2013 ABC News Radio