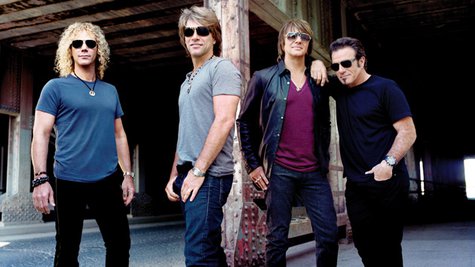 Bon Jovi is currently on the road in support of their new album What About Now , which won't actually arrive in stores until next week. The first single, "Because We Can," is climbing the charts, and Jon Bon Jovi says the anthemic, upbeat song, which seems to be about standing by a loved one, actually has a more universal message.
"'Because We Can,' simply stated, is asking the question and then answering it: 'Why should I? Because you can,'" Jon explains . "'Why should I be involved? Because you can. Why should I make a difference? Because we can.'"
With lyrics like "Our love can move a mountain," the song is also very positive and hopeful, and Jon says that's what Bon Jovi is always trying to convey in their music.
"Our songs try to always find the optimism, and try to find that the glass is half-full, not half-empty," Jon says, laughing. "Maybe that's a little bit of a romantic version of the world but somebody's gotta spread that optimism! And so we try to do that."
Bon Jovi's What About Now will be in stores March 12.
Copyright 2013 ABC News Radio