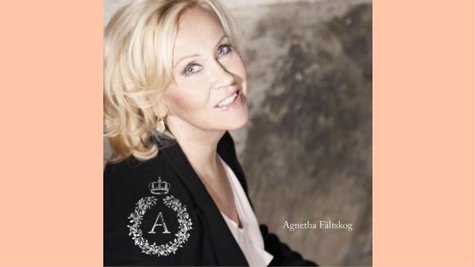 After years of shying away from the spotlight, ABBA singer Agnetha Faltskog is returning with a new solo album titled, simply, A , which is scheduled to hit stores in the U.S. on May 14. The record's lead single, "When You Really Loved Someone," was released Monday as a digital download, and an official video for the song can be viewed online now.
A was co-produced by Jorgen Elofsson -- who has written hits for Britney Spears , Kelly Clarkson and many others -- and veteran arranger Peter Nordahl . Agnetha had been reluctant to restart her singing career, but says listening to some of the new tunes brought to her by Elofsson and Nordahl convinced her.
"Never thought that I'd ever sing again," she admits . "But hearing the first three songs, I just couldn't say no!"
The 10-track collection includes a tune titled "I Keep Them on the Floor Beside My Bed," which is one of the first songs Agnetha has co-written in many years.
"Jorgen kept saying, 'You have to write a song for this record,'" Agnetha notes. "I hadn't written any music for a long, long time. But I sat at the piano, and suddenly it was there."
Despite Agnetha's initial reticence about recording again, Elofsson says the pop legend inevitably embraced the new opportunity to create music.
"She wanted to make music again. We could feel that," he explains. "Basically, she's a musician, a songwriter/singer who hasn't done that for a while. We saw her open up, become much happier, with music again in her life."
In conjunction with her forthcoming album, Agnetha has relaunched her official website and also has introduced a Facebook page and Twitter account . Meanwhile, fans who preorder A via iTunes now will immediately be able to download "When You Really Loved Someone" for free.
Copyright 2013 ABC News Radio