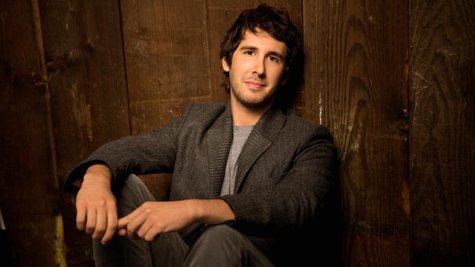 In his career, Josh Groban has gotten to do a lot of cool things, like sing with Celine Dion , appear on Glee , and make Oprah's Favorite Things list twice. But he says none of those accomplishments even rate among his top three "pinch me" moments of all time.
Asked to name the top three moments of his career that he simply could not believe, Josh tells the Huffington Post UK , "Meeting Nelson Mandela , singing with Paul Simon -- because he was the biggest hero of mine as a young person -- and standing in the middle of the Winter Olympics Closing Ceremony, knowing my family were in the audience, singing for the extinguishing of the flame."
He adds, "It was after 9/11. The country needed to come together and sports did that, it was the biggest thing for me...and it was freezing. But we had a blast."
Josh is about to have another "pinch me" moment: he tells HuffPo UK, "I'm singing with Barbra Streisand on her next album," and notes that when he crosses paths with artists of that magnitude, "My first instinct after excitement is intimidation, but I think that's healthy."
He explains, "Any time I sing with anybody I've looked up to since I was little, out of nostalgia, that makes it more difficult, because it is huge, but the best you can do to counteract that intimidation is [to] kick ass."
Copyright 2013 ABC News Radio