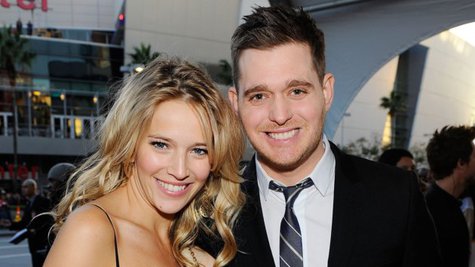 These days, most couples want to find out the sex of their unborn baby, but Michael Buble says he and his pregnant wife have differing opinions on the subject...and unfortunately, she's overruled him.
Speaking to Australia's Kyle and Jackie O show , Michael said that he and his wife Luisana went for a sonogram, but they couldn't see the sex of the baby because "it had its legs crossed and wouldn't cooperate." The singer predicts that they'll find out very soon, but it's entirely against his will.
"The truth is, I don't wanna know," he said. "But it turns out that my wife is the boss of everything, so she decided what I would find out and what I wouldn't. I didn't have a choice!"
Plus, finding out the sex of the baby won't do anything to assuage his fears of first-time fatherhood. Michael told the radio show, "It's the weirdest thing. I'm scared, I don't know what I'm doing. My friends are all laughing at me, telling me I'm never gonna sleep again and there's gonna be poop everywhere!" But, Michael says, "The truth is, I think the good stuff is gonna outweigh the bad."
Michael also spoke a bit about Reese Witherspoon , with whom he duets on his upcoming album To Be Loved. He says the two met a while back and liked each other, and he was knocked out by her singing in the movie Walk the Line. He asked her to record the Sinatra tune "Somethin' Stupid" with him and was thrilled when she agreed.
"I called her the other day and told her that she was the icing on the cake...the cherry on top for this record, she did such a great job," revealed Michael. To Be Loved goes on sale April 23.
Copyright 2013 ABC News Radio