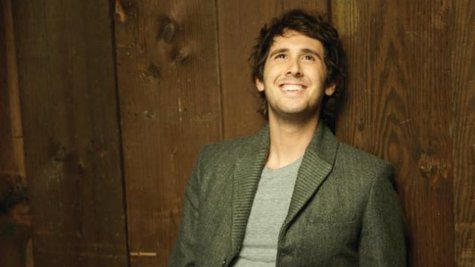 Many people think of Josh Groban as some angelic, opera-singing choirboy, but in real life, he's quite different. How different? Well, for one, he claims he's spent quite a few nights "drunk and dancing on a stripper pole" at Kid Rock 's place.
Speaking to DuJour magazine about how his private life is not what you'd expect, Josh describes attending "epic dinner parties" at Kid Rock's home, where the guest list might include "a teacher he met in Brooklyn, then someone from the Beastie Boys , a professor and me." "We'll all sit at this long table and have political conversations," Josh reveals. "Then we'll get drunk and dance on his stripper pole."
Josh, whose new album All That Echoes debuted at #1 last month, says that his role in an upcoming movie will further demonstrate that he isn't just some housewives' heartthrob whose music is played at funerals. The film, Coffee Town , casts Josh as a disgruntled barista and wanna-be rocker. "There's a scene where I [pee] in a cup of coffee," he says. "I drop the F-bomb quite a few times."
But Josh's fans shouldn't worry: he's also interested in working on projects that are more in line with his musical style, like a proposed Broadway revival of the musical Chess . In fact, he says he meets with the show's lyricist, Tim Rice , every few months to discuss it. "We're serious about it," he tells DuJour.
Copyright 2013 ABC News Radio