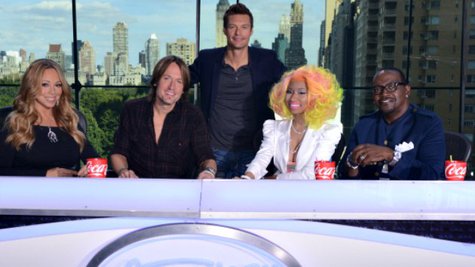 The top 10 American Idol contestants performed for the nation's vote Wednesday night singing songs from past Idol champs. Judges Keith Urban , Randy Jackson and Mariah Carey were on hand to offer their critiques. Nicki Minaj was absent at the top of the show, and host Ryan Seacrest explained she was stuck in traffic. She finally made it to her seat 20 minutes into the broadcast.
Here's a rundown of the night's performances:
Curtis Finch, Jr. was up first singing "I Believe" from season three champ Fantasia , and he hoped to make her proud with his gospel-tinged performance. Keith warned Curtis to watch his adrenaline, but he loved the song choice. Randy encouraged Curtis to try something besides this kind of inspirational song, but Mariah liked that Curtis brought out the gospel choir on this performance.
Janelle Arthur hoped to stay true to the roots of country music with her performance of Montgomery Gentry 's "Gone." Former Idol champ Scotty McCreery had a breakout moment on the show when he performed "Gone" a few seasons back. Keith said Janelle was burning it up with this performance, but Nicki wanted to hear songs that showcased the pretty part of Janelle's voice. Randy didn't think the song went anywhere, but Mariah thought Janelle gave off star quality.
Devin Velez took on "Temporary Home" by Carrie Underwood and said he connected with the lyrics coming from a single-parent home. Keith thought Devin lacked confidence with this performance, but he liked his voice. Nicki disagreed with Keith and said Devin was in his comfort zone this week. Randy felt Devin underplayed himself, and Mariah agreed Devin needs to step it up in the competition.
Angie Miller went with "I Surrender" by Celine Dion , a song Kelly Clarkson sang in the show's first season. Keith praised Angie's ability to make any song current and said she knocked it out of the park. Nicki thought Angie personified perfection with a flawless voice, and Randy said Angie started the competition for the night. Mariah simply called it "stellar."
Paul Jolley chose to sing Lonestar 's "Amazed," which Scotty sang during his journey to taking the Idol title. Paul took mentor Jimmy Iovine 's advice and avoided over-singing this time around. Keith felt this was one of Paul's better performances, and Nicki said Paul did the song justice and looked comfortable onstage. Randy thought Paul was getting better and taking the judges' advice. Mariah told Paul to forget about all the advice and just stay true to himself.
Candice Glover was inspired by Jordin Sparks ' Idol performance of Ben E. King 's "I (Who Have Nothing)," but she brought an intensity all her own to the song. Candice's powerhouse performance earned a standing ovation from most of the judges. Keith felt Candice commanded the song on par with Shirley Bassey 's version of the song, and Nicki said no one could ever sing "I (Who Have Nothing)" on Idol again after Candice. Randy called it one of the greatest performances this season, and Mariah said she was "mesmerized" and "transfixed" every time Candice took the stage. Mariah added that she didn't give Candice a standing ovation only because her skirt was too tight.
Lazaro Arbos chose to sing Kelly Clarkson 's "Breakaway," but his performance seemed to lack energy until it picked up at the very end. Keith didn't think the song fit Lazaro very well, and Nicki didn't like it either. She did love Lazaro's Ricky Ricardo look though. Randy felt the song was too big for Lazaro, but Mariah noted Lazaro's courage in making himself vulnerable by singing the song.
Kree Harrison sang "Crying" by Roy Orbison , a song Carrie Underwood sang during her run on the show. Keith said he would go and buy an album of Kree's right now, so it was only a matter of picking the right songs like "Crying." Nicki said Kree's performance was smooth and delicious like the buttermilk waffles with syrup she sometimes eats for breakfast. Randy said Kree's voice made him feel good all over, and Mariah loved the song choice and said she's glad America gets this chance to hear Kree.
Burnell Taylor went with "Flying Without Wings" by Idol champ Ruben Studdard , but Jimmy warned him not to sing R&B ballads week after week. Keith noted Burnell's unique vocal qualities, and Nicki felt he was well on his way to being his own artist. Randy thought Burnell was in the zone, and Mariah loved the choices he made with the melody of the song.
Amber Holcomb sang "A Moment Like This," Kelly Clarkson 's winner's song from the first season. The power note at the end earned Amber a standing ovation from all of the judges except for the wardrobe-impaired Mariah. Keith loved her effortless performance, and Nicki said it was the best performance of the night. Randy had nothing but praise for Amber, and Mariah said Amber had a natural, goosebump-inducing gift that couldn't be explained.
Someone is going home on American Idol 's results show Thursday night at 8 Eastern on Fox. Bon Jovi and Phillip Phillips are slated to perform.
Copyright 2013 ABC News Radio