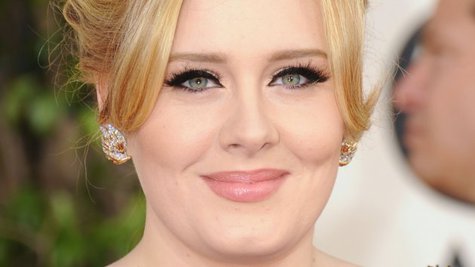 Another day, another couple of stories about Adele in the British press that may or may not be true.
First, the tabloid The Sun claims that the singer, who glowed on the red carpet at the Grammys, Oscars and Golden Globes, is being pursued by all the top cosmetics companies, who hope to sign her to a multi-million dollar endorsement deal. According to the paper, Estée Lauder, L'Oréal and Dior are all dying to make her the face of their skincare brands, and are willing to cough up 15 million bucks for the privilege.
A "source" told the paper, "Adele is in big demand. She would only accept if the campaigns were to her taste and incorporate her music. The last thing she wants is a cheesy ad...[it] would have to be in keeping with her personality." The source adds, "It's going to take a lot of persuasion to get her to agree but, right now, it looks as if she's close to signing a deal."
The reason this story is hard to believe is that in 2011, Adele actually slammed celebs who sign endorsement deals, saying, "It's shameful when you sell out...I don't want my name anywhere near another brand. I don't want to be tainted."
Meanwhile, the tabloid The Daily Star reports that any super-rich individual who's hoping to hire Adele to sing at a wedding is going to have to write one fat check.
A friend of South African fruit juice tycoon Viv Imerman tells the paper that he wanted to book the singer for his daughter Megan 's wedding on Friday, but couldn't believe how much she was charging: close to four million bucks for 25 minutes. That's about $150,000 per minute.
Imerman is worth about 600 million bucks, but the "friend" tells the paper, "He paid Amy Winehouse thousands to perform at his eldest daughter Bianca 's wedding three years ago. He hoped to do the same again with Adele. But he was surprised when he was told she'd cost [that much]. Even he thought it was too expensive and is looking at other artists."
Copyright 2013 ABC News Radio