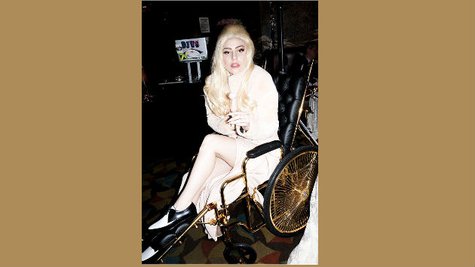 Lady Gaga may be in a wheelchair, but that hasn't stopped her from looking for new digs in her hometown of New York City.
The New York Post reports that Gaga, who's been searching for a new apartment for a while, recently went to look at a $5.95 million penthouse in a building on Manhattan's Upper West Side. She also checked out a building in midtown Manhattan whose residents have included P. Diddy and Deepak Chopra .
Meanwhile, Gaga's Born This Way Foundation has received a nomination in the 2013 NewNowNext Awards, which are handed out by gay-themed cable channel Logo. Gaga's gotten a nod for "Most Innovative Charity of the Year," thanks to its stated mission of "creating a safe community that helps connect young people with the skills and opportunities they need to build a kinder, braver world."
And here's innovation for you: Gaga's Born Brave Bus , which brought the charity's message to every stop of her Born This Way Ball tour, is now going on the road without her. Her tour was canceled but the bus will be traveling all over the U.S. this month: check BornThisWayFoundation.org to find out when it'll be in your neighborhood.
Copyright 2013 ABC News Radio