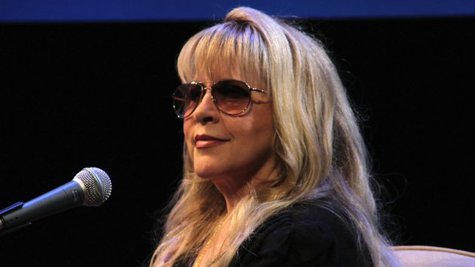 When a veteran band hits the road, some critics sneer that they should think about retiring. But don't try to convince Stevie Nicks of that: the Fleetwood Mac frontwoman says she plans to sing well into her 80s.
Billboard reports that during a Q&A session at the South by Southwest Music Festival late last week, Stevie says she feels that since she and her voice are in such great shape that she should be able to perform for decades to come. The singer, who'll turn 65 in May, said, "Opera singers plan to sing into their 80s. I plan to not be doing 190 shows [a year] when I'm 85, but I do plan to be out there singing when I am a seriously older woman."
Stevie predicted that her voice will "still be pretty good" at that advanced age because she's "not gonna let it go." "The people that can't sing anymore that had great voices are people that went away for five years and just decided to come back," she explained. "You can't just come back. You have to keep singing –- or dancing."
According to Billboard , Stevie, who'll hit the road with Fleetwood Mac next month, also revealed that she's writing a new song about "obsessive love" after being inspired by the film Anna Karenina.
Copyright 2013 ABC News Radio