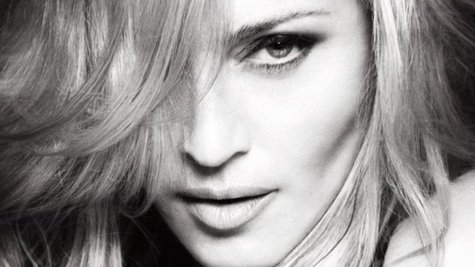 Madonna seems to be venturing into Lady Gaga territory with the new trailer for the "secret project" she's been talking about online lately.
The 57-second trailer opens with what appears to be red smoke against a black background, and then we see a bloodshot eye, in a face covered with black makeup, open up and start looking around.
Footage of the smoke is then intercut back and forth with the footage of the eye, while high-pitched dramatic music plays in the background. It gets louder and more annoying, as the picture flickers in and out, like a bad TV signal. Then a bell goes off, the eye vanishes, and we see on the screen the words "#SECRET PROJECT," followed by the words "STEVEN KLEIN."
Steven Klein is a famous photographer with whom Madonna has been collaborating since 2003 on photography and video projects. He created background videos for many of her tours, shot pictures for her albums Confessions on a Dance Floor and Hard Candy , and also photographed her for various magazines. Perhaps not coincidentally, Klein also created the deeply creepy and weird commercial for Lady Gaga's Fame perfume.
As for the secret project, no one knows what it is, but Madonna has posted various pictures on Instagram showing her in some sort of jail cell, along with the slogan, "I want to start a revolution! Are you with me?" This may have to something to do with the tour DVD she's working on, but we'll evidently have to wait to find out.
Copyright 2013 ABC News Radio