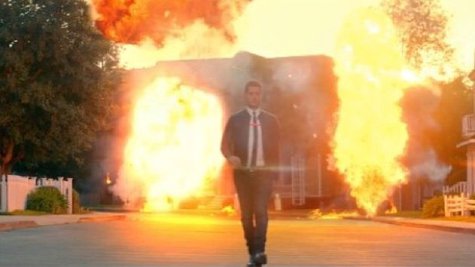 Michael Buble 's new single "It's a Beautiful Day" is about a guy who's relieved that his girlfriend has broken up with him because he's so unhappy in their relationship. That story plays out comically in the song's new video, which debuted on Cosmopolitan.com , and which guest stars actress Jamie Pressly and that nerdy guy from the GoDaddy Super Bowl commercial .
In the video, Jamie and the nerdy guy are smooching on the couch when Michael walks in and catches them at it. Jamie tries to pass the guy off as her "yoga teacher" who's "helping me breathe," but Michael just throws his hands up and walks out the door, knowing that their relationship is over. But there's no crying -- Michael's as happy as can be.
As he leaves the house -- on a suburban street that looks like Desperate Housewives' Wisteria Lane -- Michael's immediately surrounded by girls of every type, and is joined by a group of female dancers as he sings the chorus: "It's a beautiful day/The sun is up, the music's playing/And even if it started raining/You won't hear this boy complaining/ 'Cause I'm glad that you're the one that got away."
Michael then opens up a kissing booth, flirts with a girl in a lifeguard chair, plays with an animated bluebird -- similar to the one in Snow White -- and does backflips in the street as the party rages, while Jamie Pressly is stuck looking on enviously from a window up above. When Michael stands under her window and sings, she takes that as a cue to leap into his arms -- but he doesn't catch her, and she ends up falling on her face while he shrugs and walks away.
The video ends with Michael strolling away from the suburban street and homes as explosions go off behind him. The animated bluebird flies up into the sky and joins a flock, who form themselves in to the shape of a hand making the "A-OK" sign.
"It's a Beautiful Day" is from Michael's new album, To Be Loved , due out next month.
Copyright 2013 ABC News Radio