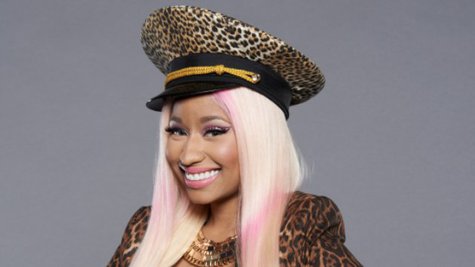 If you've been rooting for one of the male contestants on this season of American Idol, Nicki Minaj would tell you not to bother. Asked by reporters during a phone press conference Monday if there's any chance for a male contestant to win this season, the judge was blunt. "No," she said. "Absolutely not."
Okay, then, who does she think does have a chance to win? Nicki named her frontrunners as Kree Harrison , Candice Glover and Angie Miller and explained why. "I think that outside of their voices, they just sort of won people over already, which I think is evident in just what I see on Twitter with my fans. You know, those three seem to have really, really made an impact," Nicki said.
Speaking about her own experiences on the show, Nicki says at first, she was afraid that America would hate her for being such a straight shooter, but she was assured by the producers that viewers would appreciate her honesty. She's definitely this season's most talked-about new judge, and even viewers who had preconceived notions about her when the show began are now fans of her forthright style. Nicki told reporters that she's not surprised that people had the wrong idea about her at first, but she's grateful she's had the chance to set the record straight.
"You know, you only see videos and me being crazy and hearing little things here and there, and obviously you're not going to have any idea who I really am," she said. "I'm just happy that Idol producers gave me a shot on the show for me to be able to show who I really was, because I feel like I'm every single woman. I really don't think outside of maybe some pink wigs, that there's anything that separates me from every other woman in America. So I'm just happy I was given the opportunity."
But Nicki says that seeing and reading the reaction to her on American Idol surprised her, because things that she does that she considers completely normal are thought of as, well, crazy by most people.
"I didn't realize that maybe I am a bit strange," the rapper told reporters. "What I say to the contestants...that's really how I act, but people think it's kind of strange. Like, when I asked Kree to marry me, I didn't think that that was strange, but I guess looking back at it now, maybe no Idol judge has asked a contestant to marry them on live TV! I don't know."
So, since she's become the breakout star of American Idol season 12, is a season 13 in her future? Will Nicki be back behind the judges' table next year? She won't say.
"I think people would rather be surprised," she told reporters. "I like to save the mystery and the drama. I'd never give that away. But you know what?...the people behind the scenes at Idol have been a dream to work with, and I really, really honestly mean that."
And how would Nicki rate herself as a judge? What does she consider her best and worst moments on the show? "I don't have a worst Idol moment. I've been spectacular," she told reporters firmly. "Yes, I'm going to toot my own horn. And my best moment is every single moment. I'll toot it again."
American Idol returns on Wednesday, with the contestants singing "Songs of the Motor City," aka Detroit.
Copyright 2013 ABC News Radio