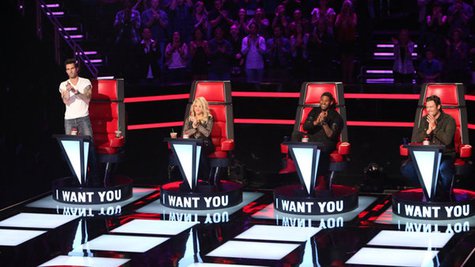 The fourth season of NBC's The Voice began Monday night with the first set of blind auditions. Adam Levine and Blake Shelton welcomed two new coaches onto the show: Usher and Shakira , who are filling in for Christina Aguilera and Cee Lo Green while the latter two are on hiatus.
Here's how the blind auditions work: the coaches sit in rotating chairs, facing the audience, while a contestant performs. If a coach likes what he or she hears, he or she presses a button to turn the chair around. If a contestant draws interest from more than one coach, the contestant gets to choose which coach he or she wants as a mentor.
By the end of the auditions round, all four coaches will have a team of contestants to lead. As of Monday's episode, Usher has three contestants on his side, Blake and Shakira have two, and Adam has one.
Here's a recap of the blind auditions featured on the season premiere:
First up were the 27-year-old Morgan twins from Rochester, New York. Blake and Usher turned their chairs just seconds into the Morgans' rendition of the Alicia Keys hit "Fallin'." Adam and Shakira later followed suit. Blake successfully convinced the sisters to choose him as their mentor by pitching the fact that his wife, country superstar Miranda Lambert , is also in the music business.
Shakira and Usher fought for Jess Kellner from Austin, Texas, who sang Elvis Presley 's "Can't Help Falling in Love." Shakira noted that Jess had "silk" in her voice. Usher asked Jess, "Do you want to last forever? Then rock with me." After hearing Usher's question, Jess chose him over Shakira.
Mark Andrew , a roofer from Minnesota, mentioned in his pre-audition interview that the drummer of his old band died at the hands of a drunken driver. He tackled Bob Dylan 's "Knockin' on Heaven's Door," resulting in Adam and Shakira turning their chairs. Mark joined Shakira, noting that his wife would never forgive him if he didn't.
Janetza Miranda , a 25-year-old from Newark, New Jersey, comes from a Puerto Rican background, and she was excited to sing for Shakira, who's from the South American country of Colombia. Unfortunately, her powerful voice on David Guetta 's "Titanium" wasn't enough to get the judges to push their buttons. Shakira thought the key wasn't quite right. Adam consoled Janetza on stage, telling her he would help her and encourage her to audition for the show again one day.
Sixteen-year-old Texan Danielle Bradbery delivered a straightforward version of the Taylor Swift song "Mean." She later said it was her first-ever "big performance." All of the male panelists turned their chairs, and Shakira said afterward that she regretted not doing the same. Blake pushed the fact that both he and Taylor are country artists, while Usher joked that he could introduce Danielle to his protégé Justin Bieber . Danielle went with Blake.
Usher immediately broke into a smile when Vedo , a 19-year-old aspiring R&B musician whose mother is battling cancer, launched into Justin Bieber's "Boyfriend." They'll be working together this season.
Christian Porter , a 21-year-old from Pennsylvania, applied his acoustic guitar to a semi-countrified version of the LMFAO hit "Sexy and I Know It." He'll be on Blake's team.
Leah Lewis , a 15-year-old who was adopted from China, grew up in a country music-loving family, so it wasn't a total surprise that she sang Carrie Underwood 's "Blown Away." She did not advance; the panel felt her voice hadn't reached its full potential yet.
Kris Thomas , who was exposed to gospel music by his parents as a child, did a pretty good Whitney Houston impersonation on "Saving All My Love For You," even reaching the high notes. After his performance ended, Usher turned around and was shocked to see that it had been a man who was singing. Kris joined Shakira.
James Irwin , a carpenter, shared a personal story of how he and his wife lost twins during her pregnancy. Unfortunately for him, none of the judges turned around for his performance of The Script 's "The Man Who Can't Be Moved." Adam thought it was a little too subdued.
Judith Hill was supposed to be a background singer on Michael Jackson 's This Is It tour, which was cancelled due to his untimely death. She put a unique R&B spin on an early Christina Aguilera single, "What a Girl Wants." Adam commented that she sang it as well as Christina does. Judith had her choice of the four coaches; she picked Adam, who had joked he would light himself on fire if she rejected him.
The auditions continue with a one-hour episode of The Voice airing Tuesday night at 8 p.m. Eastern time on NBC.
Copyright 2013 ABC News Radio