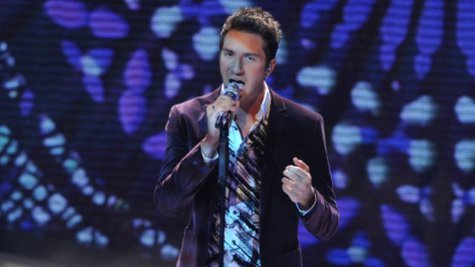 Last week on American Idol , Paul Jolley was one of the few contestants who was actually familiar with the Beatles songs they had to perform, yet he's the one who went home. The country singer says he was surprised at the other contestants' lack of knowledge when it comes to songs by classic artists, and he thinks they should hit the books, musically-speaking.
Speaking backstage at Live with Kelly & Michael, Paul tells ABC News Radio, "Even if they didn't know them, I'm surprised [the other contestants] didn't do their homework before Idol because they always do a Beatles week."
Wednesday night on the show, the contestants will again be performing old songs -- Motown classics, to be specific. Paul says, "I feel like everybody needs to do their homework and get to know all the older artists 'cause you never know if you're gonna meet them." He adds, "I mean, that's the people that you want to know. I mean, they're iconic...so, you need to know them!" It's good advice, considering that many legendary stars do drop by American Idol during the season. In fact, Wednesday night's show features Motown legend Smokey Robinson .
As for Paul, he's going to pursue his country music dreams, and while he says judge Keith Urban didn't specifically tell him he'd help him out with that goal, he thinks the Australian country superstar would be willing to do so.
"Keith Urban's a good-hearted guy," Paul tells ABC News Radio. "So, I feel like, later on, after Idol is over, if I called him up, I feel like he would help me, 'cause that's just the type of person that he is and everybody knows him for that...and, you know, all the people backstage are...'He is such a nice guy,' and I'm like, 'I know! That's why he's always been my idol.'"
Also in Paul's future is a foray into the fashion business. He dreams of designing his own fashion line specifically for men. Compared with women, Paul says, "Guys have a different kinda standpoint with their clothing. They just, sometimes they wear a suit, sometimes they wear a jean." Describing his approach to designing, Paul says, "I just like to fix things up to make 'em look classy but keep the edge with it."
Paul also says he'd welcome the critiques of the judges on his clothing line: after all, Mariah Carey has one, and Nicki Minaj is launching her own this fall. "I would love to get the pointers for sure because, I mean, they know how to do it," he says. " They know the whole process of getting the stuff made exactly the way you want it."
American Idol airs Wednesday and Thursday nights on Fox. Every Monday, you can catch the booted contestant performing on Live with Kelly & Michael .
Copyright 2013 ABC News Radio