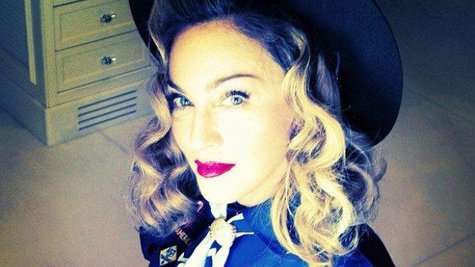 Not long ago, Madonna wrote on Instagram , "I want to start a revolution! Are you with me?" Now, a message on her website may explain what she was talking about.
Madonna has posted a picture on Facebook and on her official website of a piece of lined notebook paper, along with the message, "Marriage Equality! Let's Start a Revolution!" She has also posted a statement saying, "No matter who you are Human Dignity and Respect for all. No matter whom you love, everyone should have the same rights and be treated equally."
After the statement, she's added the line "Let's start a revolution! #MarriageEquality." And next to the photo on her Facebook page, she writes , " A revolution of LOVE !! "
Madonna's comments come as the Supreme Court debates the issue of gay marriage. Other stars, such as Beyonce , have also posted messages of support of marriage equality.
This is the second strong pro-gay rights statement that Madonna has made in as many weeks. At the GLAAD Media Awards, she dressed in a Boy Scout outfit to present an award to Anderson Cooper , and declared that the Scouts' anti-gay policy was "f**ked up" and "stupid."
Then, speaking about all discrimination and bullying, she added, "I can't take this s**t anymore. That is why I want to start a revolution."
Madonna has also indicated that she's working on a "secret project." We'll have to wait and see what she's talking about.
Copyright 2013 ABC News Radio