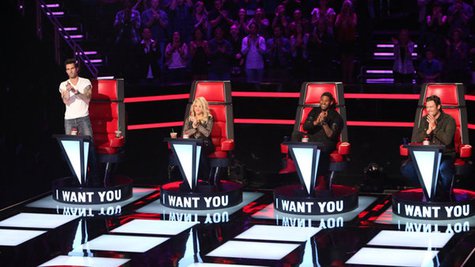 NBC's The Voice aired its second night of blind auditions on Tuesday night. Coaches Adam Levine , Blake Shelton , Usher and Shakira were again on hand to listen -- but not see -- the contestants' performances.
After the first two nights of the season, Shakira has four contestants total on her team, and Adam, Blake and Usher each have three.
Here's a rundown of Tuesday's auditions:
Tawnya Reynolds , who was billed as a veteran country singer, brought her guitar along for a rendition of "Mammas Don't Let Your Babies Grow Up to Be Cowboys." Surprisingly, Blake was the only coach who didn't turn around. Shakira elicited some laughs by pulling out a fake English-to-country dictionary, telling Tawnya she'd be "much obliged" if the contestant picked her. Tawnya did just that.
Josiah Hawley took a risk by taking on "Sunday Morning" by Adam's band, Maroon 5 . Blake and Usher pressed their buttons. Adam did so as well, but only after some hesitation. Adam said there were some moments in the performance that didn't work for him, but there were elements to Josiah's voice that he liked. Josiah ended up with Usher, who did one of his trademark dances to celebrate.
Midas Whale , a male duo from Idaho that includes season-three American Idol finalist Jon Peter Lewis , won over Usher, Shakira and Adam with their bluegrass twist on Johnny Cash 's "Folsom Prison Blues." After deliberating, the two men chose Adam to be their mentor. Lewis, who finished eighth during his Idol season, is the first top-10 finalist from the Fox competition to pass a Voice audition.
Abraham McDonald put in a relatively smooth performance of Beyonce 's "Best Thing I Never Had." However, none of the coaches turned around for Abraham. Usher told him he thought the singing was shaky in spots.
Cathia [KA-tee-ah], a 19-year-old from the Bronx, selected the Spanish-language song "No me Doy por Vencido" ("I Don't Surrender"). Shakira, a native of Colombia, turned around. In a funny exchange, Blake asked Usher, "What is she saying?" Usher answered, "I don't know." That didn't stop either man from pressing their buttons, tthough. Shakira convinced Cathia to join her team by selling the fact that she could be a mentor to Cathia much like Gloria Estefan was to her.
Twenty-two-year-old Sarah Simmons from Memphis had all four coaches turning their chairs for her cover of the 1990s hit "One of Us," by Joan Osborne . Blake said she was one of the top three singers he's ever heard on the show. Adam said he fights for the contestants he wants on his team, and he was dying to have Sarah on her side. Sarah picked Adam.
The blind auditions continue next Monday night on NBC.
Copyright 2013 ABC News Radio