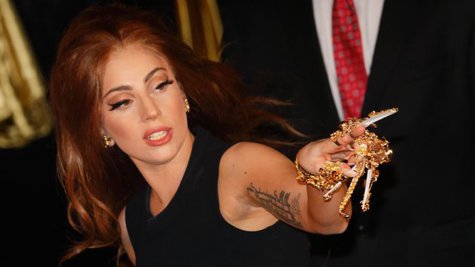 Lady Gaga celebrated her 27th birthday in style on Thursday: by rolling in a Louis Vuitton wheelchair.
Though it's a step-down from the 24-karat gold-plated chair she's previously been seen in, E! Online reports that Gaga was spotted out in New York City Thursday night entering a restaurant in a chair whose seat and arms were imprinted with Louis Vuitton's trademark "LV" logo.
It's not clear who Gaga had dinner with on Thursday, but earlier in the week, the New York Post reports, she was in Chicago dining with her boyfriend, Chicago Fire star Taylor Kinney . According to the paper, the two ate at a restaurant called Spiaggia, and indulged in its six-course tasting menus, which feature black truffles and pasta.
Lady Gaga is in a wheelchair while recovering from surgery to repair the tear in her right hip which caused her to cancel the remainder of her Born This Way Ball tour. Though millions of fans took to social media Thursday to wish their Mother Monster a happy birthday, the singer herself has been silent. She actually hasn't communicated directly with fans since February 21.
Copyright 2013 ABC News Radio