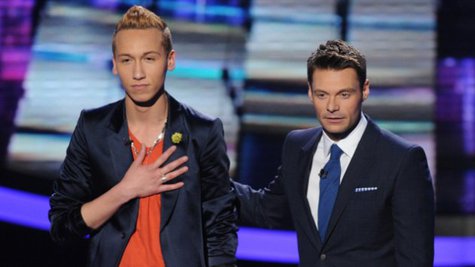 American Idol contestant Devin Velez , who was booted off the show Thursday night after Nicki Minaj ripped apart a group performance he was part of, thinks the Idol judge should just "calm down."
Devin, along with Lazaro Arbos and Burnell Taylor , performed a Temptations number on Wednesday night that was a train wreck, thanks to someone -- apparently Lazaro -- forgetting the words. Nicki hated it, compared it to a bad Hollywood Week performance, and ranted, "I don't know what that was. I'm gonna act like I didn't even see it or hear it...Go! Get off the stage!"
Speaking to reporters during a phone press conference, Devin said when he watched the performance back, he "knew where Nicki was coming from," and agreed with her description of the number as a bad Hollywood Week performance, and her contention that she didn't want to see it or hear it. But then, Devin says, she went too far.
"When she went crazy was when she was like, 'Get off the stage, blah blah blah.' And it's just like 'Whoah, Ms. Minaj, I need you to calm down, please.' Like, we're still humans, we still have feelings. She doesn't care sometimes," said Devin.
He added, unconvincingly, "It's all good, we still love Nicki."
Asked how he reacted at that moment to Nicki's harsh criticism, Devin told reporters that he didn't feel he was responsible for the failure of the number. "When Nicki Minaj was saying that we were forgetting our lyrics, that we were off pitch, without pointing fingers, I wasn't off-pitch, nor did I forget my lyrics, so I didn't take that to offense," he said. He added, though, that it "sucks" to see your team "get knocked on that hard."
He continued, "I think it was a great wake-up call. I don't think that's gonna happen again on the show."
Devin had more to say about Nicki's judging style, though. "She has multiple personalities...you never know what you're gonna get with Nicki Minaj," he snarked. "She could've been upset because the night before she was wearing the same color dress as Mariah, or she was on time, we never know."
While he claims to like her "truthful" approach, Devin told reporters, "It's when she gets into the exaggerative speaking, where it's just like, 'Ah, take it easy!' You don't wanna hurt somebody else's feelings. But yeah, she is who she is."
Nicki, meanwhile, has apparently caught wind of Devin's comments, because she tweeted on Friday, "Lol. Be mad @ AMERICA when u get sent home. The JUDGES are the ones who FOUGHT for America to get the opp to VOTE 4 U!!!" She added, "Trust me BEW BEW. If EYE didn't want u in that TOP, YOU wldnt have been in that TOP. Fought for ALL of you. So just simply b gracious."
She also called the "judges' save" "bulls**t," and added, "If Curtis didn't get SAVED, NONE of u get saved!" She was referring to Curtis Finch Jr ., the first top 10 finalist eliminated this year.
You can see Devin perform this Monday on Live with Kelly & Michael
Copyright 2013 ABC News Radio