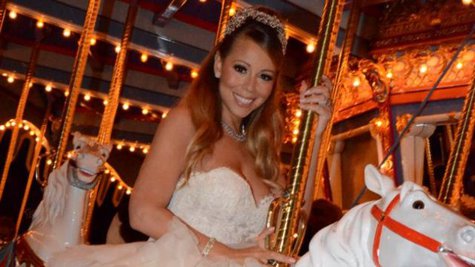 We'll say one thing about Mariah Carey and her husband, Nick Cannon : they certainly know how to celebrate the important occasions in their lives.
Entertainment Tonight confirms that in celebration of their fifth wedding anniversary April 30, Mariah and Nick renewed their vows in a private ceremony at Disneyland, and at the same time, they celebrated the second birthday of their twins, Morocco and Monroe , who were born on April 30.
The elaborate ceremony began at the Dream Suite above the Pirates of the Caribbean attraction at the park, with Mariah donning a princess-inspired bridal gown. Then, Mariah and Monroe were picked up in a horse-drawn carriage that took them to Disneyland's Main Street, where they were met by Nick and Morocco. Together, the family made their way to Sleeping Beauty Castle, where the ceremony took place. The vow renewals had a "Do you believe in fairy tales?" theme, and ended with a fireworks display.
The couple and their 250 guests then traveled to Fantasyland for a toast and reception, which Nick deejayed. Over 15,000 blooms and 10,000 crystals decorated the space, and guests were able to ride the rides to their heart's content, since the park had been closed to the public.
Before all that happened, though, the twins had their own birthday party with 150 guests, including various Disney princesses, and Mickey and Minnie Mouse.
On Tuesday, Mariah posted on Facebook , " Happy 5th(!!!!!!) Anniversary to the Best Husband in All The Land & 2 years ago pon de delivery room=luckiest Mommy in The WORLD! #HappyBirthdayDemBabies! #iluvroc&roe!!!!"

You can get more details about the ceremony Wednesday night on Entertainment Tonight .
Copyright 2013 ABC News Radio