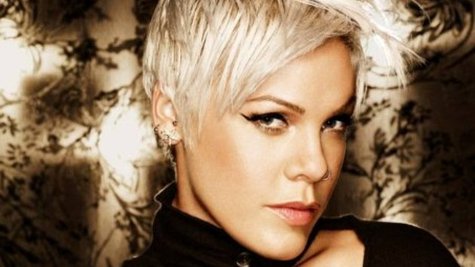 Pink is not a "slut" -- at least not anymore. She describes herself as a "reformed slut" in an interview with the June issue of Glamour magazine.
When the magazine points out to her that she uses the word "slut" frequently in her lyrics, Pink explains, "It's my very unsophisticated way of taking the power back. I've always had an issue with [the idea that]: 'OK, we've both decided to do this. Why am I a slut and you're the player? You didn't get anything from me that I didn't get from you.'"
Pink probably wouldn't call former ' NSYNC member Joey Fatone a "player" after going on a date with him a long time ago. She recalls that Fatone "was in love" with her when she toured with 'NSYNC early on in her career. She says, "He took me to Friendly's on a date, and he bought me an ice cream. Such a sweetheart. He asked my dad's permission."
Nowadays, Pink is married to off-road truck racer Carey Hart . They've hit a few bumps in their road over the course of their on-again, off-again, on-again romance, but she says they've matured as a couple. She tells Glamour , "Are things ever good? I don't believe that exists. Long-term relationships are an everyday choice. It's harder to be in a marriage than it is to bounce from one relationship to the next. We're good because we communicate and we've grown up together, not because we don't fight."
Pink and Carey have a two-year-old daughter, Willow , who seems to have picked up her mom's penchant for swearing. Pink notes, "Willow said, "F**kin' hi,' the other day. I'm like, 'F**k!'"
The June issue of Glamour , featuring Pink on the cover, hits newsstands May 7.
Copyright 2013 ABC News Radio