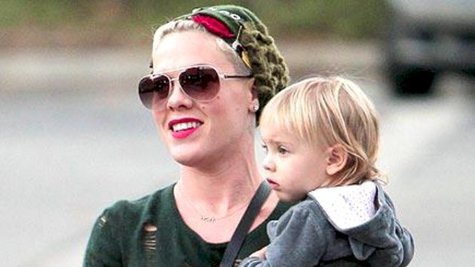 No matter how great a parent you are, sooner or later, something's going to happen to your kid that you can't prevent. That's what happened to Pink , who recalls that her "worst" day as mom to daughter Willow was the one when the toddler ended up with a concussion.
Speaking to Glamour magazine, Pink recalls that she and Willow, who was about a year old, were at a pool in Las Vegas. "I was taking her to nap time," the singer recalls. "She was walking just a foot in front of me. And she trips and falls and gets a concussion. She passed out. Cut to an ambulance and fire truck. And a CAT scan."
Pink tells the magazine, "That was the worst day of my life. And what do they say? 'Kids fall.' Welcome to parenthood. I thought, 'I can't handle this. I'm fitting her for a bubble.'"
In fact, Pink says she's still traumatized by the memory. "Every time she bounces on the bed, I see stitches," Pink admits. "Being a parent is a Jedi mind f**k. It's also the raddest thing ever."
Pink's hit duet with Nate Ruess , "Just Give Me a Reason," is #1 on the Billboard Hot 100 for a third week.
Copyright 2013 ABC News Radio