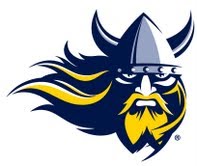 SIOUX FALLS, SD (KWSN) - Augustana football's annual spring game is Saturday at 11 a.m. at Kirkeby-Over Stadium.
The session is free and open to the public. It also marks the end of spring drills for the Vikings. The format consists of a passing scrimmage and move the ball team segments.
Jerry Olszewski is the new head coach and also serves as the offensive coordinator. Other first-year staff members are offensive line coach Matt Bacoulis, defensive coordinator Jake Dickert, and linebackers coach Brian Bergstrom.
Joe Evenson begins his seventh season with the Vikings and will coach the defensive line, while James Schrenk is in charge of wide receivers after coaching the linebackers in 2011 and 2012.
Viking fans can expect to see new schemes on both sides of the football.
Augustana will have a new quarterback and sharing snaps Saturday will be Justin Heinrich and Trey Heid. Heinrich, a junior, has appeared in five games, while Heid is a redshirt freshman.
Defensively, Thomas Vanasek, Jake Lee, Joel Slinden, and Brandon Mohr have been impressive throughout the spring sessions. Vanasek was Augustana's second leading tackler a year ago and was named to the All-NSIC South Division second team defense. Lee and Slinden are returning defensive linemen. Mohr played in all 11 games a year ago at linebacker.
Following Saturday's spring game, there will be food and beverage available for all fans. The menu includes: a pulled pork sandwich, a bag of chips, a cookie and a 20 oz. soda for $5 per person. The food will be served out of the main concessions stand on the concourse level. All proceeds will benefit the Augustana Athletic Department.
Augustana opens the 2013 season September 7 at home against Minnesota State Moorhead.
Courtesy: Augustana College