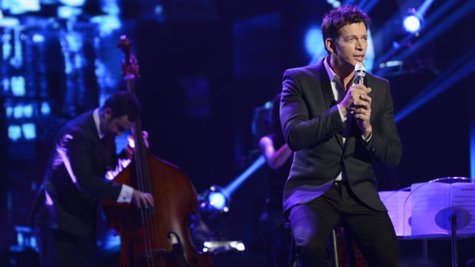 If the job that Harry Connick Jr. did on Wednesday night mentoring the American Idol contestants left you thinking, " He should be a judge, not these other bozos," well, you weren't the only one. The crooner tells E! Online that the producers did approach him about possibly joining the panel next year.
"You know, they kinda wanted to know if I would be interested in it...It's a fun show. It's been talked about before, who knows what'll happen in the future," Harry told E! "What I've done thus far on the show has been really fun, so I've had a great time."
Harry last mentored on the show back in season nine and he says even then, his name was floated as a possible judge candidate. What would hold him back from doing it? "It's hard to make a commitment like that," he explains, noting that his touring schedule takes up a lot of time. However, he jokes that if was paid "$600 million," he'd make it work.
As for what he thinks an American Idol judge's responsibility is, Harry says, "I think you need to be completely honest, and I think you need to be diplomatic. I think there's no reason to be mean, but it is called being a 'judge.' You have to judge. That's what you do."
Meanwhile, the American Idol finale is fast approaching and as usual, the producers are reaching out to stock the extravaganza with big names, but they're also looking inside the Idol family. According to the Hollywood Reporter , both season eight runner-up Adam Lambert and Oscar-winning season three finalist Jennifer Hudson have been approached to perform. So far, neither has confirmed an appearance on the May 16 finale.
Copyright 2013 ABC News Radio