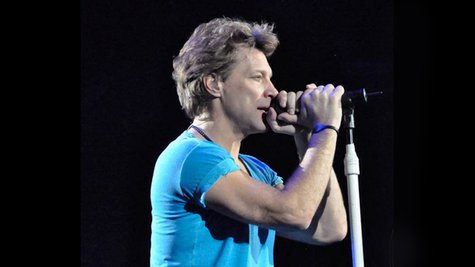 Jon Bon Jovi , whose daughter survived a drug overdose last November, joined New Jersey Governor Chris Christie on Thursday for the signing of a new law intended to encourage reporting of overdoses. The law provides immunity from arrest for people who call 911 to report an overdose, even if they used drugs.
According to NJ.com , Bon Jovi said, "I hope that Governor Christie's actions here will cause other states to stand up and to pay attention and also to follow in his footsteps." The leader of one of New Jersey's most popular bands also joined the governor in speaking to patients at the Turning Point drug treatment center in Paterson, New Jersey.
Bon Jovi's daughter Stephanie Bongiovi suffered an overdose at Hamilton College in upstate last year. Drug charges were dropped because of a similar law that was in effect in New York.
Governor Christie introduced Bon Jovi as "a New Jersey son." Christie said, "His presence today attracted a lot more people than mine, so I suspect we have gone a long way toward getting the word out today."
Copyright 2013 ABC News Radio