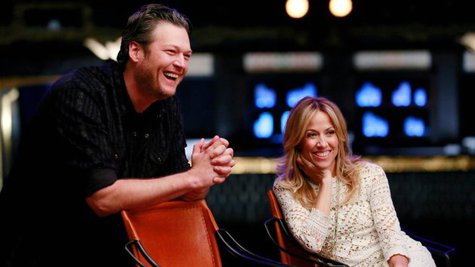 As the contestants head into a special three-night live playoff event on season four of The Voice this week, guest mentor Sheryl Crow says she thoroughly enjoyed her time on the show helping out the members of Blake Shelton 's team.
"Blake Shelton is the funnest person, and who you see on TV is who he is," she says.
When it comes to coaching, Sheryl says she sometimes hesitated with her criticism, but she loved that Blake is always bold.
"He gives great advice," she adds. "I loved some of the advice that he was giving that I felt like, 'Is it too harsh for me to say this?' …And he comes right out with it."
But in the end, Sheryl believes Blake always has his contestants' best interests at heart. "I think he really cares about all of his, all of the competitors on his team," she says.
In fact, Sheryl thinks that Blake is so great on The Voice that he deserves an entire program of his own. Speaking to Parade magazine, she says, "[He's] the most talented host I have ever been around. He should have his own show — like a throwback to an old variety show like Sonny and Cher or Carol Burnett. He's so comfortable in that role." Are you listening, NBC?
Teams Blake, Adam , Shakira and Usher compete in the live playoffs Monday starting at 8 p.m. ET on NBC.
Copyright 2013 ABC News Radio