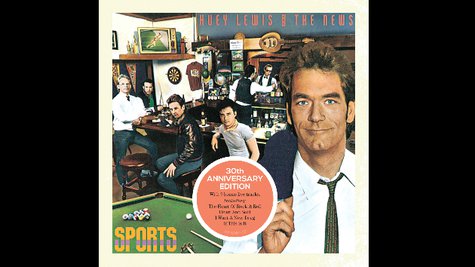 Released in 1983, the album Sports -- which eventually hit #1 in 1984 -- turned Huey Lewis & the News into superstars, thanks to hits like "I Want a New Drug," "The Heart of Rock & Roll," "Heart and Soul" and "If This Is It." The 30th anniversary reissue of that disc hits stores Tuesday, and Huey says he thinks all those songs still hold up just fine.
"They don't sound dated," he tells ABC News Radio. "Interestingly, some of the songs we wrote when we were in our 30s are sort of more appropriate for some people of our age now."
He notes, "Y'know, we started before music television, and so our angle was never to write anything that's time sensitive, try and write timeless stuff, and that's served us well in the long haul, I think." Huey says the hits from Sports are "songs for any age."
In addition to a remastered version of the original Sports album, the 30th anniversary package comes with a disc of live performances of the album's songs from various concerts the band played in the '80s -- everywhere from Cleveland to Australia. Huey adds, "And the last two songs [on the album], which we almost never played live -- 'You Crack Me Up' and 'Honky Tonk Blues' -- we re-recorded them in our rehearsal studio live, and they came out great."
Huey and the band just kicked off a tour celebrating the album's 30th anniversary: They're playing the album in its entirety, as well as select hits from other eras of their long career. The tour is scheduled to run through the end of August, wrapping up in Knoxville, Tennessee, on August 26.
Asked by ABC News Radio if the band's current concert production has any of the special effects, videos and big-budget production that you'll see at a Taylor Swift or Justin Bieber concert, Huey laughed, "Unfortunately we don't. Other than the animals, and the F-16s, and the smoke bombs, nothing's changed, really!"
Copyright 2013 ABC News Radio