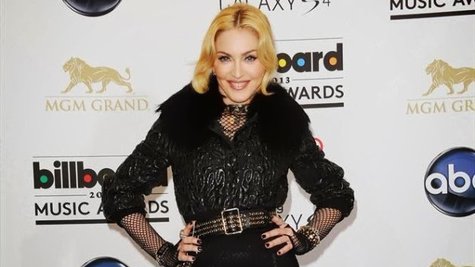 Madonna's MDNA tour, which just won her the Top Touring Artist honor at the Billboard Music Awards on Sunday night, is coming to DVD in September.
That's according to the star herself, who told Billboard that despite rumors she's been working on a new album, "I just finished editing the DVD of my concert, so I haven't had any free time."
Speaking with Ext r a , Madonna said she loved her MDNA tour because two of her four children got to be a part of the production. "To me that's my idea of fun, to be creative, to do what I love to do and see my kids working around me and earning their way in life," she explained. "My daughter [ Lourdes ] worked in the costume department, and she loved it. My son [ Rocco ] was in the show, and he loved it."

If you can't wait until September for the MDNA tour DVD, the concert will air on EPIX on June 22. There's a trailer for it online now.
Madonna also told Extra a funny story about posing for a photo with Kim Kardashian at the star-studded Met Gala earlier this month. It turns out it isn't the first time that Madonna met the reality star, who's expecting a baby with boyfriend Kanye West .
"I met her years and years ago when she was a little girl, believe it or not," Madonna laughed. "She told me she was a huge fan of mine, and it was during the time I was wearing all of the rubber bracelets on my arms. I took off all of the bracelets and gave them to her and then I completely forgot about it. She reminded me when I saw her the other night. Now she's a pregnant lady!"
Copyright 2013 ABC News Radio