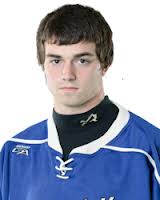 Sioux Falls, SD (KWSN)—The United States Hockey League (USHL) announced today that Stampede forward Tony Calderone has been named to the USHL All-Rookie Team.
Calderone was the first overall pick in the USHL Draft by the Stampede in 2012 and put up impressive numbers during his first season in the league. The Trenton, MI native finished fifth on the team in scoring with 44 points (29g. 15a) while appearing in all 64 games. His 29 goals were second most on the team and five of those goals were game winners.
Calderone helped guide the Stampede to a Western Conference regular season title and a team record 48 victories. The Herd went 19-3-1 when Calderone tallied a goal.
Prior to joining the Stampede, Calderone was the top scorer in all of Tier I Midget Major hockey with Victory Honda where he posted 65 points in 40 games. The 5-foot-11, 205-pound winger has already committed to play collegiate hockey at Princeton University in 2013-14.
The Stampede are currently preparing for Stampede tryout camp which will take place Friday, May 31-Monday, June 3 at Ridder Arena in Minneapolis.
Courtesy: Sioux Falls Stampede