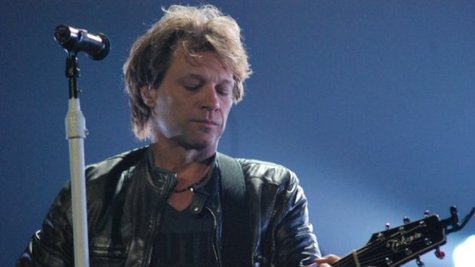 Justin Bieber 's recent plea at the Billboard Music Awards for people to focus solely on his music and not the other "bull" that surrounds him evidently didn't reach the ears of Jon Bon Jovi. In a new interview, the Bon Jovi frontman warns Justin that if he doesn't do right by his fans, he runs the risk of being seen as an "a**hole."
While speaking with the British paper the Evening Standard , Jon was asked to comment on the fact that Justin angered some of his fans earlier this year by showing up 40 minutes late to a London concert, blaming his tardiness on technical issues. Jon responded that artists who show up late to shows "run the risk of disrespecting their audience members who have worked hard to pay for their ticket, to give you the permission to take two or three hours of their lives -- or in that kid's case, 80 minutes of their lives."
He added, "Do it once, you can be forgiven. Do it enough times and shame on you. They won't have you back. Then it just becomes a cliché. It's really not cool -- you're an a**hole. Go to f***in' work!"
Jon also discussed the uncomfortable situation he's currently in: having to explain why Richie Sambora has left the band's tour, with no hint as to when he'll be back.
"It's getting more and more difficult every day to not just sit here and say something... Because all I can say is this -- it's for personal reasons," Jon told the paper. "You have a choice -- you either figure it out, go and grow, not only survive but thrive. Or, you say, 'I hate my brother and I'm gonna quit the band.' "
Copyright 2013 ABC News Radio