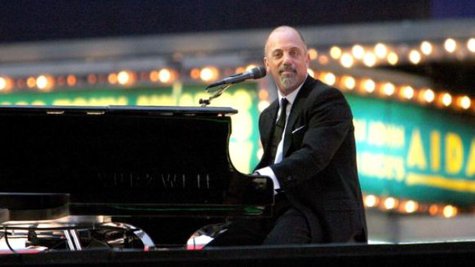 Looks like Billy Joel 's decided he still enjoys playing live. Following high profile appearances at the New Orleans Jazz Fest and at a rock festival in Australia, the Piano Man has now booked his first concert in seven years in Ireland.
According to U.TV , the show will take place at Dublin's O2 arena and will be Billy's first ever indoor concert in the Emerald Isle. Tickets go on sale May 30. Fans are still waiting to see if Billy, who turned 64 earlier this month, will book a full tour, and play his classic albums in their entirety, which is something he told Rolling Stone he'd be interested in doing.
In other Billy Joel news, the Washington Post reports that he and his buddy James Taylor were spotted dining together Wednesday night at Washington, D.C.'s Cafe Milano, described as a "see and be seen hotspot." The two Rock and Roll Hall of Famers were in town to perform in honor of Carole King , who just won the Gershwin Prize for Popular Music. The restaurant reports that Billy, James and their dates chowed down on rockfish, gluten-free pasta and biscotti.
And in a final bit of Billy Joel news, starting today, he's posting videos of four songs from his April Jazz Fest set on his official website : there will be one song per week, for four weeks. The first one is up now: it's "Miami 2017 (Seen the Lights Go Out on Broadway)."
Copyright 2013 ABC News Radio