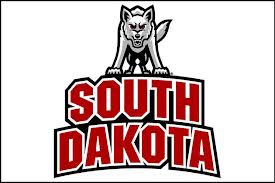 AUSTIN, Texas (KWSN) – Eleven South Dakota track and field athletes will compete at the NCAA West Preliminary Round at Mike A. Myers Stadium in Austin, Texas, starting on Thursday. The meet will run through Saturday with the top-12 finishers in each event qualifying for the NCAA Outdoor Track and Field Championships on June 5 in Eugene, Ore.
Of the 11 athletes, three will compete on Thursday. Cody Snyder will lead off by competing in the men's discus at noon. Snyder enters the event with the 22nd-best mark in the West Region of 184 feet, 6 inches.
On the track, Alexa Duling will begin her bid to return to the outdoor championships by running in the first round of the women's 400-meter hurdles at 4:30 p.m. Duling, who placed 12th at the national meet a year ago, enters with the region's 13th-best time of 58.38. Erik Hill will run in the men's 400 hurdles at 5 p.m., and is ranked 44th in the region at 52.42. The two will also have to get past quarterfinals on Friday to qualify for the national meet.
Friday will be busiest day for South Dakota as eight Coyotes will be in action. Four will compete in the women's pole vault starting at 1 p.m. Bethany Buell enters the event with the top-mark in the country at 14-7½, and Emily Grove will enter with the eighth-best height in the region at 14-0.
Both Buell and Grove qualified for the NCAA Championships last season, finishing third and seventh respectively. They'll be joined by freshman vaulters Hunter Wilkes (13-5¾) and Madison Mills (13-5¼), who are ranked 14th and 16th in the region respectively.
Also on Friday's schedule, Megan Glisar will compete in the women's high jump while Snyder and Kyle McKelvey will compete in the men's shot put. Both those events start at 6 p.m. Glisar ranks fourth in the region in the high jump with a 6-0 mark, while in the shot put, McKelvey holds the region's 19th-best mark (59-4¼) and Snyder holds the 37th-best mark (57-0¼).
Jeff Mettler will be on the track on Friday in the 3,000 steeplechase and enters with the 18th-best time in the region (8:51.99). That race will start at 9:30 p.m.
Meghan Dennis will finish competition for USD on Saturday, competing in the javelin. She enters with the 18th-best mark in the region at 157-10.
Courtesy of University of South Dakota