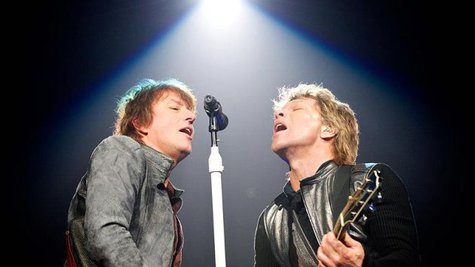 Ever since Richie Sambora abruptly left the Bon Jovi tour, it's been Jon Bon Jovi who's been faced with trying to explain the guitarist's absence; Richie himself won't clarify exactly what's going on. But now, Richie's peeved at Jon for some of the comments he's made, and is asking the singer to stop "trash talking" him.
Speaking to the British paper The Evening Standard recently, Jon said of Richie's absence, " It's getting more and more difficult every day to not just sit here and say something… Because all I can say is this -- it's for personal reasons. He's been through it before. Fortunately for us the same guy who filled in last time was available this time."
Richie now tells the British paper The Daily Mail that he resents Jon's implication that his absence from the tour is due to substance abuse issues, which sent him to rehab in the past. He also doesn't like Jon's implication that he's easily replaceable.
" I don't have any major problems in life right now. I love my fans and I feel bad for them at the moment. Bottom line," says the guitarist. " My opinion is Jon wants to see if he can pull off stadiums by himself. He is making it very difficult for me to come back. Enough with the trash talking! [The fans] have paid money to see Bon Jovi and right now, they're not getting the whole deal. "

He adds, " Jon needs to stop talking about me publicly. I am fine, working very hard on my fashion company, Nikki Rich, and this is a private matter."
Richie then tweeted , "Just don't worry... Everything's good....Just to be clear, I've been running the fashion company for 5 Yrs. It does not take me away from the band, I'm an artist first. Always will be."
Copyright 2013 ABC News Radio