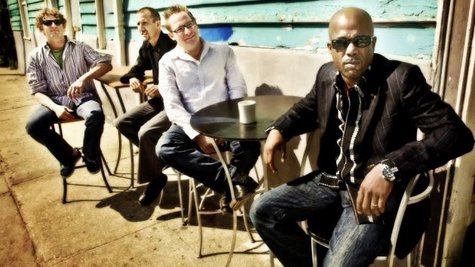 Hootie & the Blowfish have been absent from the pop music charts since lead singer Darius Rucker launched his super-successful solo country career. But Darius says he and the rest of the band may regroup next year to mark a special milestone: the 20th anniversary of their debut album.
Darius tells The Hollywood Reporter , "We might do a month tour next year to commemorate Cracked Rear View , but that one total year where we decide to do a record and a farewell tour is a couple years away."
Released in 1994, Cracked Rear View produced the singles "Hold My Hand," "Let Her Cry" and "Only Wanna Be with You." It's sold more than 10 million copies.
For now, Darius is enjoying his solo career at the top of the country charts, and there's just no room for Hootie & the Blowfish in that equation. It turns out the guys in the band missed their chance to go country with Darius before he ever set out on his own.
"At this point in my career, I don't think I would want to do a country record with them," Darius told reporters not long ago. "I said in several band meetings, 'Let's be a country band,' and it wasn't what they wanted to do."
Darius does guarantee, however, that there will be "another Hootie record" and "another Hootie tour," but he says that will be separate from his country career.
"I'm not going to take my success in country music and use it as a Hootie tool," he told reporters. "You know, we make rock records. That's what we're going to do."
Copyright 2013 ABC News Radio