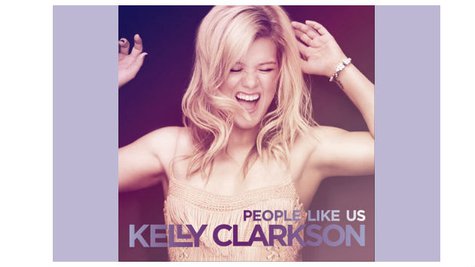 Kelly Clarkson is going slightly sci-fi in her new video for "People Like Us," which features her playing the part of a scientist who rescues a little girl from being studied in a lab.
The clip starts with Kelly intoning, "We come into this world unknown, but know that we are not alone/They try and knock us down, but change is coming: it's our time now." We then see black-and-white footage of a group of white-coated scientists -- include a glasses-wearing Kelly -- peering at a young girl sitting all alone in what looks like a cell. She's the only one who's in color. More scenes follow of the girl being observed in test situations and lying on a table being scanned, though we're not sure exactly what the scientists are looking for.
After observing this for a while, Dr. Kelly becomes upset and sneaks into the little girl's cell. She takes the girl's hand and places it on her face, and "wipes" the girl's color onto her cheek. Then, she takes the girl's hand and they run out of the cell and the lab facility together, with black-suited bad guys on their heels.
Kelly, who's now in color along with the girl, jump into an in-color car and drive through a black-and-white landscape. After they speed through a tunnel and come out the other end, they're in a world of beauty and color, and others are lining up behind them to face down the black-suited bad guys, who are still in black-and-white.
The entire sequence is intercut with Kelly as herself, wearing a colorful outfit, singing the song.
"People Like Us" is the latest single from Kelly's Greatest Hits: Chapter One album. She's currently in the studio recording a Christmas disc for release later this year.
Copyright 2013 ABC News Radio