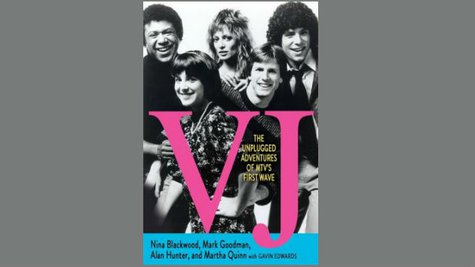 If you were an MTV baby, a new book written by all four living original MTV VJs is a must-read for you.
VJ: The Unplugged Adventures of MTV's First Wave , tells the inside story of how Martha Quinn , Alan Hunter , Mark Goodman, Nina Blackwood and JJ Jackson became superstars while introducing the world to the strange new concept of "music videos," and changing the music industry forever.
There's plenty of sex, drugs and rock 'n roll in the book, as well as many naughty celebrity stories -- you can just imagine the big names who were constantly hitting on Martha and Nina throughout the years, some of whom they actually dated. But ultimately, MTV came down to the music, so we asked Martha and Alan to sum up which acts truly captured the essence of those exciting early days.
"I would go for Duran Duran, " Martha says when asked to name the band who best captured the essence of the early MTV era. "I would. For, as far as, you know, the band that epitomizes the early days of MTV the most. [It's] between Duran Duran and I'm gonna go for a one-hit wonder: A Flock of Seagulls. ..because though they may not have had the longevity, somehow they sum up to me that early era."
As for Alan, he's sticking with the group that's still dominating the music scene today. "I think because they've had such longevity in the business I'd have to say that U2 is the ultimate '80s band that has still had a life," he says. "And they got their start in 1981 on MTV."
And what about the VJ's favorite videos of all time? "It sorta changes depending on my mood but the one that, that's steadfast for me is ' Once in a Lifetime ,' Talking Heads, " says Alan "Simple video, great song, good combination." Martha, meanwhile, chooses Duran Duran's " Hungry Like the Wolf ."
Speaking of videos, perhaps the most surprising thing revealed in the book is that for a long time, the VJs didn't actually watch the videos they were supposed to be talking about. They didn't get them in advance, and they also didn't have time, according to Alan.
"We had a lot of homework to do," he explains. "Outside of our little breaks, we had a lot of research to do and back then we didn't have the dang Internet. I don't know how we did it. We went through books!" "And magazines," adds Martha.
"We watched the videos, you know, as much as we could," Alan continues. "Sometimes we'd have to talk about videos that premiered quickly and we didn't have the video, so, we'd come out of it and go, 'Wow, that was fantastic, loved it!' and it was a video with exploding atom bombs and death! And I was like, 'Oh, great!'"
What's equally amazing about the book is that it describes how all the VJs are all still friends, 30 years down the road. Explaining why, Martha says, "We're kinda like Vietnam vets who were like in the same foxhole, you know. We shared the same pup tent."
She adds, "I think there's something about being in a situation that bands you together for life. And in the early days of MTV everyone said MTV wouldn't last. We were rebels with a cause. We were like, 'No, this is rock and roll and these are videos and it's gonna work!' And that's a Crazy Glue of a bond."
Copyright 2013 ABC News Radio