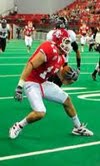 Sioux Falls, SD (KWSN)- Former University of South Dakota Wide Receiver Will Powell is still waiting for his chance to show NFL teams what he can do.
He knows that going the undrafted free agent route will not be easy, but it can be done. He's hoping to follow in the footsteps of former SDSU star Dale Moss, who started on the Green Bay Packers practice squad before joining Tampa Bay and now currently with the Chicago Bears.
He joined Sports Talk with Craig and Chris Wednesday and discussed his training, and what opportunities might lay ahead.
The Sioux Falls O'Gorman graduate finished his collegiate career with 158 catches for 2,521 yards and 21 touchdowns.