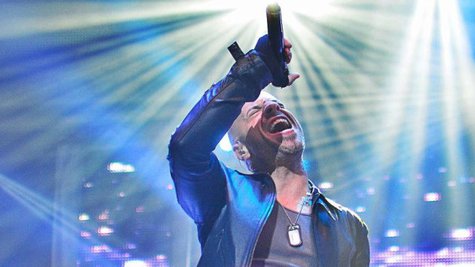 Daughtry is gearing up to kick off a summer tour with their pals 3 Doors Down in July, but in the meantime, Chris Daughtry has been working feverishly on the band's fourth album, and says he's trying to get it "exactly right."
In a SoVo audio tweet , Chris tells fans he's "still plugging away on this record" and is "working on new songs, still." "[We're] trying to get it exactly right for you; exactly right for us," he explains, adding, "And I'm sure when we know a roundabout date of when this can be expected to be released, you will be the first to know."
Chris also spoke about the upcoming tour, which will feature the return of bassist Josh Paul , who left the band last year, but is now back in the fold. "We are equally if not more excited than you are about these shows coming up," said Chris in his audio tweet. " And we're going to try to change the set list around. We've been working different songs back into the set."
Even though Daughtry has now been out on the road with 3 Doors Down numerous times, Chris says they're still stoked about performing with the guys, because they all get along so well.
"I think this is like the 50th leg of the Daughtry/3 Doors Down tour," he laughs. "No, it's like third or fourth. But we're very, very excited to be going back out with those guys; our good friends. They're like family now to us."
The summer leg of the tour kicks off July 3 in Raleigh, North Carolina, and is slated to wrap up at the end of August.
Copyright 2013 ABC News Radio