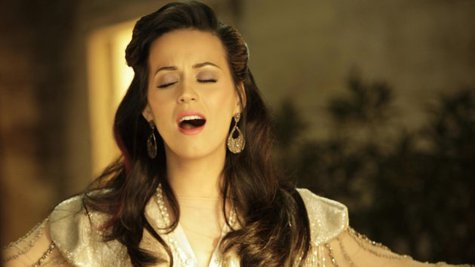 Katy Perry's song "Firework" has become an anthem for misfits everywhere, and now the singer has taken to Instagram to post a heartfelt message to victims of bullying.
Next to a picture of herself posing in front of a sign that says "Be proud of who you are," Katy writes, " That's right folks. Be proud of who you are. Recently, I've been getting a lot of comments and tweets from fans who are struggling with self harm or being a victim of bullying. Which brings tears to my eyes. I want you to be strong."
Katy goes on to advise fans to embrace their differences, and predicts that when they grow up and "become successful," the bullies will "WISH they were friends with you and were nice to you."
"Karma will do payback to them, just watch," Katy adds.
Katy also tells fans that when they get bullied, they should laugh in their tormentors' faces or say that they don't care. "If they see it bothers you, they'll continue. If they see that you don't care and that it doesn't bother you, they'll stop!," she explains. "Simple! Stand up for yourself. Make those bullies look stupid."
Katy then discusses the topic of self-harm, begging fans, "Don't ruin your skin, I think your skin is beautiful. Putting scars on your wrists or anywhere else is just heartbreaking for me. Cutting yourself doesn't fix anything. Please, just stop. For me, for your family, for your friends, for you."
She asks fans if they could try to refrain from self-harm "just for today," and then slowly "go up to a week, maybe?" "You can slowly progress to stop. I love you!," she adds.
Katy's fans have responded with positive messages about how her post made them cry, or made them feel better about themselves. " Katy you've made me realize how important life is," writes one fan who says they've considered self-harm. "I love you so much."
Copyright 2013 ABC News Radio