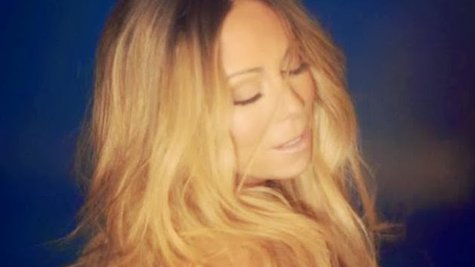 Last week, Mariah Carey released the explicit version of her latest hit, "#Beautiful," which revealed that the hashtag in the title actually stands for a naughty word. Now, she's released an explicit version of the song's video to match.
Unlike the original "#Beautiful" video, which cut between shots of Mariah riding on a motorcycle with duet partner Miguel , writhing around on the same bike in a tiny leather outfit and dancing in a barn, the new explicit video only consists of scenes shot in the barn.
In the clip, Miguel sits behind the wheel of a shiny red Porsche Speedster, which in real life once belonged to Mariah's late dad. The car is parked in the barn -- the kind of barn that has chandeliers hanging from the ceiling -- and the headlights are trained on Mariah, who dances and prances in a tiny, curve-hugging short yellow dress that barely covers her. That's the whole video, pretty much, but you do get to hear Miguel say the "f" word several times, as well as the word "ass."
The new video is now available for download on iTunes. Some fans aren't thrilled with it, however: after Mariah posted a link to it on Facebook , one fan wrote, " You're too classy to have explicit themes ," while another commented, " I don't feel the explicit version was necessary. You are better than that. Just saying! "
Copyright 2013 ABC News Radio