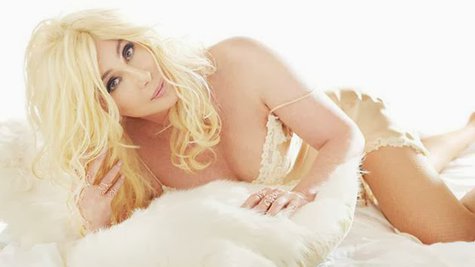 We've seen Cher in the Dancing with the Stars audience, cheering on her son Chaz when he competed on the ABC show. But on Monday night, the legendary diva will be sitting at the judges' table, serving as a special guest judge alongside Bruno Tonioli and Carrie Ann Inaba . But instead of being excited about the prospect, Cher says she's "frightened" of the responsibility, insisting, "I am so not qualified!"
While the singer has no problem talking about a dance performance as a whole, she told reporters Friday during a phone press conference that when it comes to the technical side of things, "I don't know really anything about ballroom dancing." She adds, "I don't want to be responsible for someone getting a different mark than a professional would give them."
"I feel a little bit nervous about this because I actually have enjoyed ballroom dancing," Cher told reporters. "And actually, my uncle and my aunt were ballroom dancers, but I don't know how you judge it, y'know what I mean? And that makes me feel a little bit frightened. I don't want to do anything that would hurt anybody in any way."
While Cher says she has a manual that has a lot of information about what the dances consist of, she's afraid that her lack of experience will cause her to overlook nuances that an actual judge -- like head judge Len Goodman , who she's temporarily sitting in for -- would pick up on. "I just don't want to miss any fabulous thing...[that] the contestants are doing that would be a big deal, and I wouldn't even know it!" she told reporters.
All this stress is making Cher long for the days when she could just sit on the sidelines and support Chaz. She said of Monday night's show, "I kind of wish I was sitting in the audience for most of it....not to do any damage, just to enjoy it and clap, because it is thrilling, I have to say I didn't think it would be like that. In person, it was just amazing, like any live event -- the energy is just palpable."
Cher says she's a fan of Dancing with the Stars because she admires the sheer guts it takes for someone who isn't a professional dancer to hit that ballroom floor. "I think they just want to see what they can do, and try to grow, you know?" Cher says of the show's contestants. "And I cannot applaud them enough because I would be terrified...I wouldn't do it because I'd just be too frightened. I'm a big wuss!"
In addition to judging the show, Cher will also be performing two songs: "Believe" and her latest single, "I Hope You Find It." And while she promises three costume changes, the woman known for her over-the-top costumes says she's toning it down on Monday, so as not to compete with the glitter, sequins and feathers the dancers usually wear.
"It's not all beaded and stuff like that," she said of her outfits. "That's gonna be well taken care of by everyone else there!"
Copyright 2013 ABC News Radio