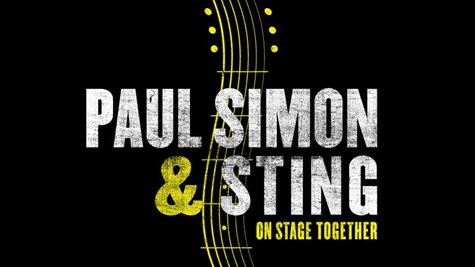 Paul Simon and Sting have now confirmed Monday's reports that they'll join forces for a North American tour next year. Eighteen initial dates have been scheduled, running from February 8 in Houston, TX, to a final March 16 performance in Orlando, FL.
The outing, dubbed Paul Simon & Sting: On Stage Together, will feature the two acclaimed singer/songwriters performing sets with their respective backing bands as well as singing a number of tunes together. Presale tickets will be available Wednesday, November 6 for Sting.com fan club members, who can log in and retrieve a special access code. American Express card members can purchase tickets as early as Thursday morning at 10:00, local time, while the general public will be able to buy tickets to most of the concerts starting Tuesday, November 12. Check Sting.com , PaulSimon.com , or SimonandStingTour.com for details.
The idea for the joint trek apparently was inspired by a performance the two stars gave this past May in New York City at a benefit for the Robin Hood Foundation, at which they sang Paul's Simon & Garfunkel classic "The Boxer" and the Sting solo tune "Fields of Gold."
"After we finished it," recalls Simon during a phone interview, "we both looked at each other and said, 'Wow. That's pretty interesting.'"
Sting, meanwhile, tells The New York Times that he and the folk-rock legend "both share this abiding curiosity about music and where it's going." As for his feelings about the tour, he adds, "We don't really know where this is going. We don't really have a clue how this is going to pan out."
Here's the complete Paul Simon & Sting: On Stage Together itinerary:
2/8 -- Houston, TX, Toyota Center
2/9 -- Dallas, TX, American Airlines Center
2/11 -- Denver, CO, Pepsi Center
2/15 -- Los Angeles, CA, Forum
2/17 -- San Jose, CA, SAP Center at San Jose
2/19 -- Seattle, WA, Key Arena
2/20 -- Vancouver, BC, Rogers Arena
2/23 -- St. Paul, MN, Xcel Energy Center
2/25 -- Chicago, IL, United Center
2/26 -- Detroit, MI, The Palace of Auburn Hills
2/28 -- Montreal, QC, Bell Centre
3/1 -- Toronto, ON, Air Canada Centre
3/4 -- New York, NY, Madison Square Garden
3/7 -- Philadelphia, PA, Wells Fargo Center
3/9 -- Hershey, PA, Giant Center
3/13 -- Washington, D.C., Verizon Center
3/15 -- Ft. Lauderdale, FL, BB&T Center
3/16 -- Orlando, FL, Amway Center
Copyright 2013 ABC News Radio