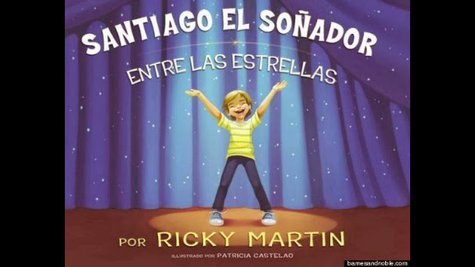 Ricky Martin is known for his singing and dancing skills, but now the pop star can add a new occupation to his resume -- children's author. Ricky's first children's book, Santiago the Dreamer in Land Among the Stars , will be published this Tuesday, November 12.
The 32-page, illustrated book tells the story of a boy who aspires to be a stage performer and whose father helps him build the confidence to fulfill his dreams. Ricky says his own 5-year-old twin sons, Matteo and Valentino , inspired him to write the book.
He'll be signing copies of the book at in-store events on Tuesday in New York City, Wednesday in Ridgewood, New Jersey, and Friday, November 15, in Coral Gables, Florida. In addition, he'll appear on Good Morning America and Live with Kelly & Michael on Tuesday.
Meanwhile, Ricky has launched a new interactive website called PiccoloUniverse.com that will offer parents and caregivers a place to share their experiences and give advice to others about raising children. The site will feature blogs and forums where contributors -- including Martin himself -- can connect in multiple languages: English, Spanish and Portuguese.
"These days, for me it's all about finding the best ways to teach, inspire and nurture my family," says Ricky in a statement. "It's a big job but it's the most rewarding role I've ever played -- also the most collaborative. My friends and I learn so much when we share ideas, which is why I've launched Piccolo Universe."
The singer considers the book and website extensions of his ongoing efforts to help children around the world, exemplified by the Ricky Martin Foundation charity he founded that aids young people in need of educational, medical and social support.
Copyright 2013 ABC News Radio