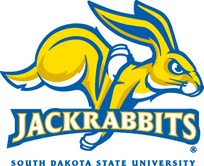 PROVO, Utah (KWSN-AM) Brigham Young broke the game open with a 19-3 run late in the first half and maintained a double-digit advantage nearly the rest of the way en route to an 81-53 victory over South Dakota State in the women's basketball season opener for both teams Friday afternoon at the Marriott Center.
The game between a pair of postseason qualifiers a season ago was closely contested for the first 10 minutes. After trailing 9-4 early on, the Jackrabbits grabbed an 16-14 lead on a three-pointer by Kerri Young with 11 minutes, 35 seconds to play in the front half.
BYU then put together its big run, outscoring the Jackrabbits by 16 points over the next seven minutes. Kim Beeston finished off the run with two of her game-high six three-pointers for the Cougars.
Courtesy of South Dakota State Athletics