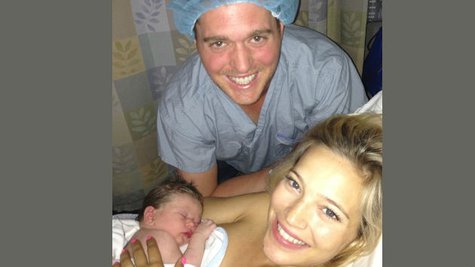 Michael Buble just became a father for the first time on August 27, but he says he and his wife are already eager for another round. Several, in fact.
Speaking to the British TV show Daybreak , Michael said that his reaction to the birth of baby Noah surprised him. "I've said this and I've gotten in trouble for it, but it really wasn't what I thought it would be," he admitted. "Everyone told me it would be this life-changing, massive [thing]." Instead, he says, he found it "very surreal." But that doesn't mean he doesn't love it, and that he won't do it again.
"Until you do it, you don't know. And now I know...we'd love to have three or four more," he said.
Of course, Michael and his wife Luisana , a huge star in her native Argentina, have to juggle the demands of parenthood with the demands of their busy careers, and that can put a strain on a marriage, as Michael admits.
"Marriage is hard. I think that love is hard," he said on Daybreak , noting, "I think that you've always got to try. In any relationship people fall in and out of love, but it's just a matter of hoping that you don't fall out of love at the same time!"
Michael's currently finishing up the North American leg of his most recent tour, and in January, he'll head overseas for a tour of Europe and the U.K., followed by Australia. He's already lined up another Canadian tour after that, starting in June. But though he's obviously much in demand, Michael says he still feels insecure about his position in the music industry.
" I feel like my career in some ways is on a down," he told Daybreak , citing the economy and general diminishing record sales across the entire music industry. " Security-wise, I can be very secure or very insecure depending on which week you talk to me...I can feel like I'm very popular and trending upwards one week, and the next, I can feel like I'm holding on and scrapping to stay relevant," he says.
But Michael says he'll keep on going, because he truly loves entertaining people. "I love that I can just take people away for a while," he says. "I love that I can just be a small part of bringing a little bit of happiness to people."
Copyright 2013 ABC News Radio