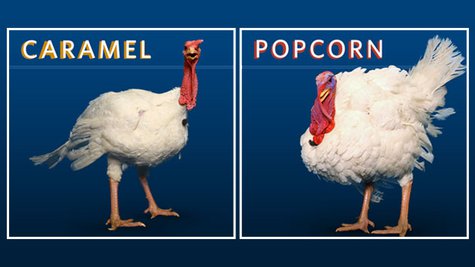 The war between pop music divas has now extended to Thanksgiving...or at least to Thanksgiving turkeys. Two gobblers are up for the prestigious title of National Thanksgiving Turkey, but there can be only one. Which one will it be? The one who loves Lady Gaga , or the one who's huge Beyonce fan?
While it sounds like a joke, the official White House website is asking fans to vote on which turkey will be crowned the National Thanksgiving Turkey. Both birds will receive a pardon from President Obama , but only one, chosen by the American public, will get the title. Photos and stats for each bird are posted on the website: you can either save Caramel , a male whose favorite song is "Bad Romance" by Lady Gaga, or Popcorn , also a male, whose favorite song is "Halo" by Beyonce.
The winner will be announced on Wednesday; you can vote at the website, or on Facebook or Twitter using the hashtags #TeamCaramel and #TeamPopcorn.
It's worth noting that both Beyonce and Lady Gaga are supporters of President Obama's, having both sung for him at different times during his presidency.
Copyright 2013 ABC News Radio