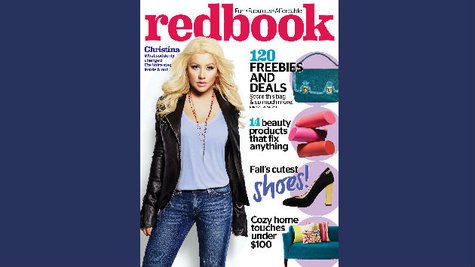 Christina Aguilera seems like the ultimate girly girl, so how does she thrive at The Voice , where she's the lone female surrounded by Adam Levine , Blake Shelton , Cee Lo Green and Carson Daly ? Turns out she can relate to the guys more than you might think.
"I know these guys so well, they really are like my brothers, no joke," she tells Redbook magazine for its November cover story. "There's a 12-year-old-boy in me who loves to come out and play with them."
Her love for The Voice and her fellow coaches notwithstanding, Christina says she still felt the need to take a season off from the popular NBC show.
"I needed to decompress, wind down the clock and just breathe," she tells Redbook . "I needed to find out who I am outside of that red chair. We did three seasons, and I wanted to disengage and have my life back and be with my son -- put my sweatpants on and wipe my makeup off."
Speaking of her son Max , whose father is Christina's ex-husband, Jordan Bratman , he remains her #1 priority. "If I have to choose between working out and spending time with my son after a hard day, it's not even a question," she says.
Christina also explains why she's a protective mom to Max, who'll turn six in January. "I have spoken honestly about being born into a home where there was discord and chaos," says the singer. "I saw my mom have a rough time with my dad being very controlling, which is why I push back whenever I feel like someone is trying to box me in. It makes me run for the hills."
For more from Christina, check out the November issue of Redbook , on newsstands October 15.
Copyright 2013 ABC News Radio