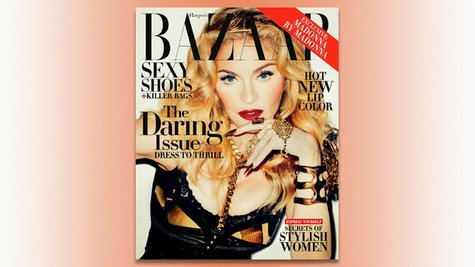 Truth or Dare is the name of Madonna's famous behind-the-scenes tour documentary, and the name of her signature perfume. But in the November issue of Harper's Bazaar, the Queen of Pop describes in an essay what it's been like to live her entire live being daring, even though it means she's had to face disapproval, criticism, false accusations and even sexual assault.
"Doing something daring is a rather scary proposition for most people. Yet for some strange reason, it has become my raison d'être," Madonna writes . "If I can't be daring in my work or the way I live my life, then I don't really see the point of being on this planet."
Madonna begins the essay by describing her first daring choice: to be a non-conformist while growing up in a conservative Michigan suburb in the Midwest. "That was all I needed to understand that the world was divided into two categories: people who followed the status quo and played it safe, and people who threw convention out the window and danced to the beat of a different drum," she writes, adding, "I hurled myself into the second category...I did the opposite of what all the other girls were doing...I dared people to like me and my nonconformity." She admits that at that time, not many did.
Madonna's other daring choices include:
Moving to New York City to become an artist : "The first year, I was held up at gunpoint. Raped on the roof of a building I was dragged up to with a knife in my back, and had my apartment broken into three times," she writes. "I was scared...s***less...[but] I was defiant. Hell-bent on surviving. On making it. But it was hard and it was lonely, and I had to dare myself every day to keep going."
Making deliberately controversial comments once she became a star : "I was wearing as many crucifixes around my neck as I could carry, and telling people in interviews that I did it because I thought Jesus was sexy," she writes. "Well, he was sexy to me, but I also said it to be provocative...Yes, I like to provoke; it's in my DNA. But nine times out of 10, there's a reason for it."
Choosing to study Kabbalah : "I was accused of joining a cult. I was accused of being brainwashed. Of giving away all my money. I was accused of all sorts of crazy things...Kabbalah really freaked people out," she writes. "I wasn't hurting anybody...I was actually trying to become a better person. For some reason, that made people nervous. It made people mad. Was I doing something dangerous? It forced me to ask myself, Is trying to have a relationship with God daring? Maybe it is."
Moving to England after marrying ex-husband Guy Ritchie : "I consider moving to a foreign country to be a very daring act. It wasn't easy for me. Just because we speak the same language doesn't mean we speak the same language," she writes. "But I stuck it out and I found my way."
Adopting her children David and Mercy from Malawi : "I didn't know that trying to adopt a child was going to land me in another s**t storm. But it did. I was accused of kidnapping, child trafficking, using my celebrity muscle to jump ahead in the line, bribing government officials, witchcraft, you name it," she writes. "This was an eye-opening experience. A real low point in my life...trying to save a child's life was not something I thought I would be punished for...[but] I got through it. I survived...and looking back, I do not regret one moment of the fight."
Becoming a filmmaker and continuing to explore religion : "[Filmmaking is] probably the most challenging and rewarding thing I have ever done," she writes. "I am building schools for girls in Islamic countries and studying the Qur'an. I think it is important to study all the holy books...To some people this is a very daring thought."
Madonna finishes by writing, "Asking questions, challenging people's ideas and belief systems, and defending those who don't have a voice have become a part of my everyday life. In my book, it is normal. In my book, everyone is doing something daring. Please open this book. I dare you."
To read the entire interview, pick up the November issue of Harpers Bazaar.
Copyright 2013 ABC News Radio